20 Best Summer Date Ideas 2019
Usually, most summer date ideas for couples look the same – a walk through the streets of the city, movie, theatre or something like that. At the very beginning of a relationship, even such meetings bring a lot of emotions and impressions, but over time, people get used to them, and there is not a trace left of the former storm of feelings. If this has happened in your couple or if you want to impress a new girlfriend, then it's time to arrange an unusual date, which you will not forget for a long time. You can find interesting ideas for a date in any season, but the summer months can bring bright pastime for two. There is a lot of ideas for a date in summer, and we have gathered the best and not banal ones for you!
What Makes a Great Summer Date?
Before we offer ready-made summer date ideas, let's consider a few useful tips and recommendations that make them great.
Don't go to the places where you have nothing to do. These are such ideal, at first glance, meeting places like a cafe and a restaurant. Think about what will you do there? You will have to constantly talk about something. Of course, if you have a lot in common, it's not a problem to find topics interesting for you two. However, this doesn't happen very often. In most cases, when talking to unfamiliar people, especially if you are worried, conversations come to a standstill, and there are a lot of awkward pauses.
Don't be late. If you have already arranged an original date, then don't be late (if it is not included in the plan of the evening). Punctuality is above all. If people are late, this means that they don't respect themselves and their chosen ones.
Come up with a route of dates in advance. You shouldn't stand still and ask your partner about the plan. Even the most wonderful surprise is unlikely to be appreciated by a partner if you don't know where to go and what to do. It is better to think over different date ideas for summer to be ready for different unpleasant surprises.
Please a girlfriend. Remember that a date is for two of you. So, be ready to please a girl. If, for example, she loves animals, then some exotic restaurant where she is offered to chop carcasses of animals on her own will be the height of recklessness.
Don't talk on prohibited topics. If everything turned out perfectly, and you organized an original date, then forget about conversations like exes, religion, excess weight, and so on even if you are very nervous and worried.
Don't have other plans. If you have planned an unusual date, give up any other plans for this day since the situation looks very strange when a man declares that he has little time and spends an hour on a date. The whole atmosphere will be irrevocably spoiled.
Summer Date Outfits
Women don't pay too much attention to summer date outfits of men; they rather want their boyfriends to impress them. But some requirements about the appearance still have a place to be. The first impression is formed by the clothes of a man, his shoes, haircut, accessories, perfume, as well as general tidiness and neatness. And even if the man's body shape and face are far from ideal, a properly composed date outfit will be the key point of a positive impression of him in the eyes of his girlfriend.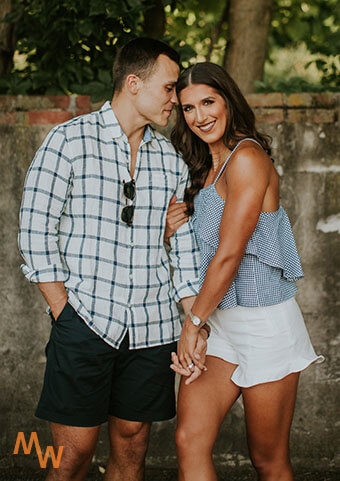 First of all, you should think about the place. Your summer date outfit will largely depend on it. If you are going to walk around the city, then you need to dress up according to the weather. If it is an active date, then you should wear sports or casual outfit and comfortable shoes.
It is better to wear black or dark blue jeans and an ironed T-shirt. Polished shoes and a stylish men's belt that matches the shoes will complete your outfit. By the way, as for shoes, it is not necessary to wear only classic shoes for a date, especially if you don't wear them in everyday life. Perhaps it would be better to wear fashionable sneakers, moccasins or topsiders, that is, shoes that will give confidence. These are the most appropriate summer date night outfits.
Summer Date Ideas 2019
The days are getting longer, the nights become hotter, so this is the perfect time to enjoy romantic dates. Since summer is a warm season, there are many ways to enjoy romantic dates and not to worry about the weather. Here are 20 great ideas for a summer date.
1. Go food and drink tasting
Even in small towns, various tastings are often held. They can be carried out by private companies for the production of any products, cafes, restaurants and large shopping centers. Wine, cheese, pastries, and other delicacies fit perfectly into the romantic surroundings. And to enhance the effect, you can feed each other.
2. Watch a film at the open-air cinema
If you have an open-air cinema in your city, be sure to go there. It is very romantic to sit and embrace under the clouds (or stars) and enjoy not only each other's company but also a good film. This is one of the best cheap date ideas for summer.
3. Look at the stars
If a date is scheduled in the evening, then don't miss the opportunity to admire the starry sky. It is better to go to the observatory (by the way, they are often found in universities). But you can just go out of town, lie down on the fragrant grass and just keep quiet, admiring the flow of distant stars. And don't forget to make a wish, watching a shooting star.
4. Go boating
It is especially nice to rest on the water in the summer heat. So, if there is a park with a lake, then rent boats and enjoy each other. You can grab a basket with food and a bottle of wine in the boat and sail away into a secluded corner, having a picnic on the water.
5. Have a picnic
When was the last time you were out with a loved one in nature? A long time ago? But who's stopping you? Once a month you can arrange such a date. You can take a car or just walk to the nearest landing. You can make sandwiches and tea. Moreover, such a picnic can be arranged both during the day and at night. At night, it will be even more romantic. But don't forget the tent if you decide to go camping at night.
6. Watch the sunrise
If you meet late in the evening and don't want to say goodbye to each other, then don't rush to leave. Go to a nightclub and then walk around the main streets until the morning and meet the dawn somewhere on the waterfront.
7. Go to the amusement park
Do you think you are too old to scream on a roller coaster? You are not. If you want to return to childhood, then go to the amusement park. This is the best way to get a charge of vivacity and fun. Go up to heaven on the Ferris wheel, try the most extreme ride in your park, and so on. This will surely be one of the best fun summer date ideas!
8. Become volunteers at some event
Do you want to attend some summer festival, but the entrance ticket is too expensive? Become a volunteer at the event! During the day, it can be very interesting to help organize the event. And in the evening, you will be able to enjoy the festival headliners for free.
9. Ride bikes
If you are good at sports, then this option is for you. Rent bikes and explore your city on a bike. If you are tired of the bustle of the city and pedestrians don't give you a good way to ride really fast, then go out of town and make your own route.
10. Play mini golf
A game like mini golf has been gaining popularity lately. The rules of the game are simpler than in real golf, and there is much more activity in it. Moreover, you can play by your own rules and come up with a punishment for a loser and a gift for a winner.
11. Go hiking
Hiking is one of the most interesting summer date ideas. There is something special in it. When we make our way through limitless nature, it makes us all enjoy simple moments much more than usual. Nature is a great helper in getting closer. Fresh air, picturesque landscapes and a soothing atmosphere will turn your "date" into a pleasure!
12. Go to a concert
Are you interested in cheap summer date ideas? We have the one for you! Summer festivals are completely free, which means that your date has already been planned for you! Grab a warm blanket, wine, and delicious food to calmly relax with your favorite music or take backpacks and water to have fun all night long!
13. Enjoy a romantic dinner during the sunset
The month of June (especially the second half) is the time of the beach season. What could be more romantic than a moonlit night on the seashore in the arms of a loved one? Comments are superfluous here. Romantic dinner by the sea is a great way to be together! A light sea breeze and a glass of wine – you will have an unforgettable evening!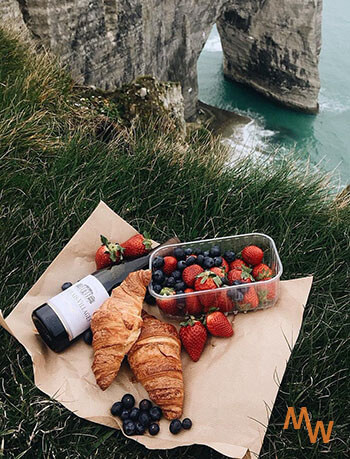 14. Buy cheap fruits on local markets
Summer is the time for berries and fruits. Find a grocery market with cheap summer food near your home and try everything that local stalls offer.
15. Go to an ostrich farm
Are you looking for cute summer date ideas? If a girl loves animals, everything is simple here. Take her to an ostrich farm. It will be a charge of cheerfulness and positive energy. Your girlfriend will return from such a walk refreshed and happy.
16. Drink lemonade
Nothing could be better than a big and cold glass of lemonade and relaxing in the backyard. If you are determined to relax and enjoy the fresh air with your partner, then this idea is for you. Lemonade is a great way to beat the heat while being outdoors. You spend a pleasant and relaxing time with your loved one.
17. Go camping
If you have a limited budget, and you are looking for a convenient and inexpensive way to enjoy time with your loved one, why not go camping? All you need is a tent, sleeping bags, and a good mood. Fry meat or sausages, then sing your favorite songs and enjoy the stars until you fall asleep and spend the rest of the night in each other's arms. Nothing could be more romantic than such summer date night!
18. Visit a botanical garden
Flowers are so romantic ... A trip to the botanical garden is a chance to arrange the most romantic date! A walk with a loved one along the lush flower paths decorated with petals is so beautiful and unusual. Every girl probably dreams of this. The air is warm and sweet, the birds are singing, and everything looks so romantic.
19. Take selfies
You probably want to capture this date with your loved one. What could be better than taking some beautiful selfies of you two? It will be remembered forever. And if a beautiful beach or sea is your backgrounds, then this particular place will become your personal spot of memories in the future.
20. Go skinny dipping
Of course, it's not an option for a first date. But if you are quite liberated, you can try to spend time in this way. Maybe it will be one of the most unusual summer date night ideas for you.
Although it may seem difficult to break away from the daily routine, previous ideas are simple and take a little time out of your life. Relationships become much stronger when simple and familiar moments take on new forms. They become more valuable. You don't need to spend a lot of money on summer date ideas. You just need a little imagination, a little time and a lot of love!
There are no comments. Your can be the first