10 Main Signs a Female Coworker Likes You and How to Make the Best of It
Flirting at work is a whole other level of excitement. It is drive, subtle passion and lots of second-guessing. As long as your boss allows relationships at work or you can successfully mask it without getting fired, why not try this spicy adventure? Especially if you like a girl from your workplace and see her as your potential wife. Why not try and find single women at your job?
Today we will find out how to tell if a woman is attracted to you at work and learn how to respond to her, so that flirting could turn into relationships.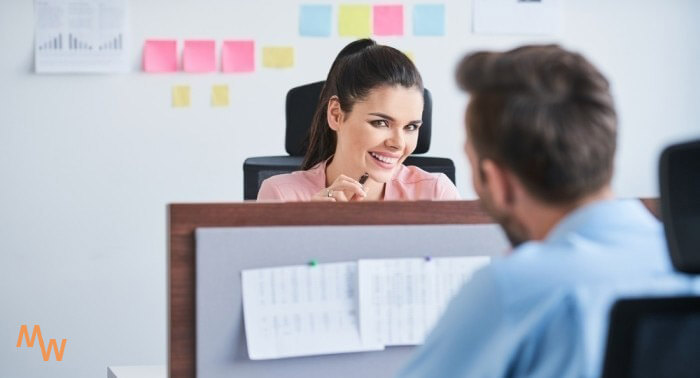 Flirting and Building Relationships at Work: Pros and Cons
Of course, there will be some cons. Dating at work isn't all rainbows and roses, you know? At first, it is going to be a fiery mystery where all of your co-workers have to be allies, but then it can turn into a sneaky game. So, shall we start?
Pros of Flirting at Work
+ It is exciting. Meeting at work is far more interesting than meeting at a bus stop or near a cafeteria. It starts slow and mellow, but then you are the creator of your own story. You have every card up your sleeve to sweep this girl off her feet, dropping hints and keeping her infatuated for a while before you decide to move to a next step. And this game is fresh, you can continue it for as long as you want. It is dangerous, it is edgy and far more romantic than any other dating. According to dating rules for men, there is nothing shameful in a little romance at work.
+ It can improve you a lot. It might seem bizarre, but romance doesn't distract from work every time. For example, if you see a beautiful co-worker, you want to look better for her every day. You change your style, go to a barbershop more often, arrive at work earlier which never disappoints your boss. Besides, you work harder and better to show her you never slack off. You communicate more, which adds up to your social skills. You become a changed man.
+ You grow together. All best marriages start from friendship. And co-workers often have that kind of vibe. If you want to see your loved one every day to be present whenever she is sad or celebrating victories, you will always be here to help her.
Cons of Flirting at Work
- You see her every day. On the other hand, seeing your partner at home and at work, going home together and coming to work every morning together can be annoying. Especially if you have fights. You will have less space to take a deep breath and dissociate yourself from this situation. And that can be hard.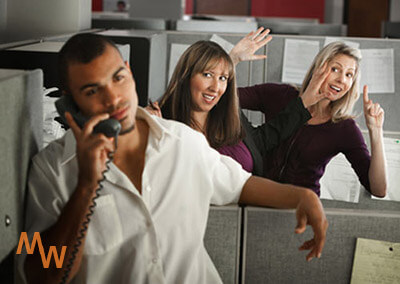 - Flirting at work can get you into trouble. Not all bosses are happy to hear that two of their co-workers are constantly out of the building doing God knows what. Be sure that this doesn't get in a way of work. Especially make sure you won't hurt her or put her in a dangerous situation career-wise.
- You might annoy your co-workers. Imagine all of your single friends looking at you snuggling and bubbling all day long? If you want to avoid jealousy and deadly stares from your colleagues, don't show public display of affection (or at least try to minimize it, people are trying to work!)
How to Tell If a Female Coworker Is Flirting With You?
There are many ways how to tell if a coworker likes you. They may be either implicit or suggestive. But either way, don't flatter yourself too much. Before hitting on her, you must know for sure the signs your coworker has feelings for you.
1. She looks at you at the workplace
If you work at the office together and your tables face each other or you bump into each other in the cafeteria, it is no coincidence. It is one of the signs a coworker is attracted to you. Hold an experiment. Look her way, then concentrate your glance on the clock (a table, an entry). Watch her look in the same direction. If you caught her looking at a clock, she's watching you or were checking you out! But make sure she's not just nosey or thirsty for any male attention.
2. She asks you for help
One of the strong signs a female coworker likes you is when she needs your assistance at least once in a day consistently. Why would she want to ask you to sharpen her pencil, discuss the latest report, or fetch coffee? She just wants to get closer to you and show her helplessness so that you would evoke your basic hunter skills.
3. Offers help
When you fall in love, you enter a protector mode. When a girl falls in love, she evokes her mother instinct, trying to be warm and kind to you. It might not be true in 100% of cases, but if she brings you coffee or Snickers from the cafeteria, treats you to homemade ginger cookies and asks how well you slept today, that is an indication of even more than flirting.
4. She changed her style
A girl whose man is always on the spot will want to look on point so you won't catch her with untouched routs, brassy hear or bad makeup. She will go that extra mile to put on a pushup bra and a pencil skirt to emphasize her curves. Even if it isn't too suggestive, you would still notice a change of mood, her new scent, and a new attitude.
5. Tries to start an intimate conversation
It doesn't have to be dirty or sexual. She just wants to open up to you about her relatives, friends, and her weekend plans to make sure you will remember her. She would want to impress you by mentioning some unique skills or be funny. Also, one of the signs a female coworker is attracted to you on a personal level is when she asks you about your family or routine. It means she wants to know you more.
6. You always find her sitting right by your side during meetings
It's like she spies on you or wants to get closer every second. Have you noticed that people who have chemistry always end up sitting closer? Especially if she's looking fly today, why wouldn't she let you get a sneak peek of her cleavage or give you a trace of her enchanting perfume? You need to be silly to miss out on these workplace flirting signs.
7. One of your close friends says she asked about you
That is an upright sign a coworker likes you. If she likes you, she will get sneaky, fishing out information about your favorite books or series to apply this knowledge later. Even if she tries to be iridescent about it, your colleagues will notice it soon. Even faster than you do.
8. She drops hints or ambiguous jokes
Well, if she's into innuendos and wants to get on the edge with sex jokes or flirty messages, there should be no doubt that a girlfriend has fallen for you. Only a girl with that mindset will put extra effort to impress you. If a girl wasn't interested in you, she would never go there. It's one of the major signs she's flirting at work.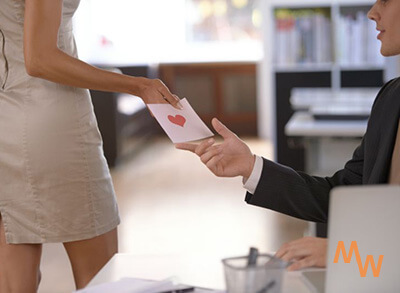 9. She gets nervous/protective when you talk to other female co-workers
Especially if your office is full of pretty girls, she'll watch you like a hawk, trying to get your attention and look better than those coffee-fetchers. Every time you talk to another female at work, watch her reaction. Chances are, she will get bitter or shade this woman because she'll automatically dislike her.
10. She'll openly flirt with you
If a girl asks you out for a coffee, smile at you like crazy, swing her hips or act very sexual, you don't need an extra confirmation that she's into you. But be sure she's not looking for attention to boost her self-esteem. Know your worth and don't jump at it immediately (unless you want to).
How to Turn to Flirt at Work into Relationships Wisely
1.Flirt only with single girls
Don't ever flirt or have a fling with a woman if you know she has a family or a boyfriend. Just don't go there. If you see that this lady is desperate to get your attention, get to know everything about her first. It's so easy to fling at work, some people do find a source of joy in it. But women often get so emotionally attached, you don't want to drag her from her family or current relationship.
2. To be wise, move in silence
You should neither brag to your co-worker nor slap her on the butt nor do some suggestive stuff. You are still in a group of people, some of which could not be your friends. You never know who's going through a tough breakup and want to snitch on you to your boss. All in all, don't risk your and her career for the sake of these flings. Appoint dates after work to keep it safe.
3. If you are not sure about the response, don't push it
If you desperately want to get into her pants, but she's hesitant, stay patient. If you don't want to catch a case, don't flirt with a young and airheaded girl who'll regret her decision and tell about the fling. If you are a boss, don't abuse your power to lure in some women in case "they want a promotion." Stuff like this happens every day, so you need to stay respectful and cautious no matter how thirsty she is.
4. Separate work and relationships
In case you choose to try a relationship and date this girl, draw the line between co-workers and romantic partners. Don't bring romance to work. Don't bring work to everyday life. Stay on that border and separate those two words.
If you want a healthy relationship with a girl from your work, understand that it's always a power struggle, and you'll always have to follow some rules to stay respectful and discrete. But if you see a green light, invite her to some beautiful place and show your romantic side!
There are no comments. Your can be the first