Guide to Swinging Couples: The Insight to Peculiar Phenomenon

What Swinging Lifestyle is About?
You've definitely heard about swinging at least once in your life, but what is a swinger after all? Swinging, which is also known as partner swapping, is when both singles and partners in a committed relationship engage in sexual activities with others. So, basically, leading a swinging lifestyle is being engaged in a non-monogamous behavior.
The reasons behind swinging vary greatly. Some refer to the quality and quantity of sex, while others may engage in swinging lifestyle in order to spice up their relationships. Curiosity often becomes the reason for swinging. Certain swinger couples see their lifestyle as a way to strengthen their relationship.
The History of Swinging Lifestyle
The history knows a lot of cultures and societies that have advocated having multiple partners. Throughout history, there were a lot of cultures in which both royalty and nobility had multiple consorts. Ancient Rome is infamous for its orgies and alternative sexual practices. Ancient Japan had special huts for teenage farmers, where people would meet each other in order to have sex. And while modern swingers embrace and celebrate those ideas, the swinging originated in the early 1960s.
Still, the historical narrative is quite debatable, as certain researchers claim that swinging emerged during World War II, ironically due to high morality of US Air Force pilots. Legend has it that pilots promised each other to care for wives of each other in the case if one of the pilots died during the war. Other researchers claim that swinging emerged during the US military communities in the late 1950s, and had a more playful premise, with soldiers tossed their house keys into one pile at the center of the room. The soldier that picked the key from a specific house would become wife's partner of the night. That phenomenon was known as wife swapping. The only thing that researchers agree on is that the US was the cradle of swinging.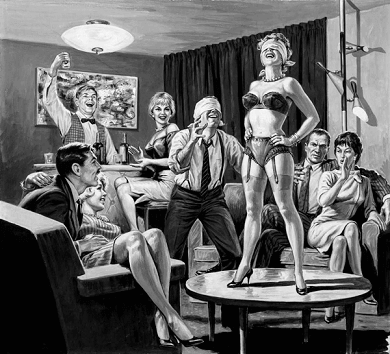 But swinging arrived officially only in 1963 when the first swinger organization "The Sexual Freedom League" has opened in Berkeley, California. In the mid-1960s the North American Swing Club Association was formed to encourage and spread accurate information about swingers lifestyles. That was done in order to distance swingers from the trendy image of them created by the 1960s movies, as well as from the term "wife swapping", which swingers consider to be an inaccurate and women-insulting description of their activities. There are female swingers, and women are not regarded by swingers as a possession that can be exchanged between male partners.
Throughout the 1990s, a lot of swingers clubs had opened in the US, the UK, the Netherlands and Germany. Those clubs aimed at putting swingers in contact with one another. The swingers club in the United Kingdom went further, and held parties for swingers and their activities. Some parties allowed swingers having sex right at the venues.
The rapid development of the Internet in the late 1990s and early 2000s seemed to open the new horizons for swinging, but there were no sites for swingers until 2005. Since 2005, the ever-growing number of swingers online sites almost made everybody forget that swing is also the name of the dance. But there is one problem with online dating and swingers, and it is a huge number of those who like discussing their fantasies, rather than trying to materialize them. Thus, such fantasists just waste the time of those who are really into swinging.
Despite all that, fifty years after its arrival swinging is pretty much alive, making us think that probably monogamous sex is something artificial. Since 1960s, swingers have proved that monogamous love has nothing to do with monogamous sex. But if that is something that doesn't appeal to your palate, swingers are not here to force you to believe that monogamous sex is the thing of the past, as they clearly know that having multiple partners is a tradition taking its roots in ancient times.
Where to Meet Other Swingers?
Now, if you and your partner feel that swinging might be your thing, there are a few things you need to discuss finding out where to meet other swinging couples.
1. Talk It Through
Before creating an account on the best swinger sites that you can find on the Web, you need to understand the purpose. Do you want to engage in swinging just out of curiosity or you want to spice up your sexual life? Is your partner as much into it as you are or agreeing to your suggestion is made because of the fear of disappointing you? Maybe it was just a bravado? The site for swinging couples is there, and it will remain there regardless of you decide to use it or not. You really need to make sure that your relationship will withstand such an experience before discovering the world of monogamous love without monogamous sex.
2. It's All About Trust
You must remember that couples that meet for swinging trust each other. If one of you regard sex with someone as cheating or suffers from jealousy, it is better to stay away from swinging as far as possible. You must trust your partner completely and know that sex with someone else is just sex. Trust concerns even creating an account on online swinger sites. Make sure that your account represents both of you, and that both of you have the same access to the account. Mind that separate accounts are the first step to distrust that doesn't go hand in hand with swinging.
3. Good Communication Skills
Partly, it is an extension to the first point, as without good communication skills you won't be able to talk everything over. But you must remember that swinging is also a social way of life. You are going to meet a lot of swinger couples, and you'll have to communicate with them. Sometimes, if you are not good at talking, you may not attract anyone's attention. So, make sure that at least one of you has great communication skills.
Now, after getting a little advice that will help you understand whether your couple is good for swinging or not, we can finally proceed with where swinging couples meet for sex.
Swinger Clubs
Yep, swinger clubs still exist. The great advantage of swinger clubs is that having a lot of people around allows you to understand the idea behind swinging faster. Thus you adapt faster to the swinging environment. Some of the clubs have special dark rooms were swingers can touch each other. You are not forced to engage in sexual activities if you don't want to. Mind that a lot of swingers attend parties like that just to chat and to observe. So, if someone offers to engage in sex, you can simply refuse in a polite way.
There are certain rules and dress codes in swinger clubs. A certain detail of your outfit may show whether you are looking for a couple or a single partner, so it is better to attend swinger clubs where you have to reserve your place at the party. Organizers in clubs like that generally inform attendants about the rules of the party beforehand.
Although swinger clubs are quite intriguing, we are living in the 21st century, where people tend to live quite a reclusive way of life. Thus, a lot may feel uncomfortable with what may be considered as orgy clubs. That's why there are a lot of websites to meet other couples for swinging.
Swinger Websites
There are a lot of online dating sites, and there are a lot of sites for swinger couples. So, if you are not into the club culture, all you need to do is to create an account on one of those sites to find a couple for your swinging activities. Although you may think that swinger sites work the same way as international dating services, but online swinging platforms are designed for the local swingers to find each other.
A few things to remember about online sites. It is better to search for a couple or a partner to swing with on sites that are specialized on swinging. We've mentioned above another thing that you should mind when joining the online swinging society – it is full of fantasists, who are more interested in expressing their fantasies online, rather than trying to materialize them. So, you need to be patient if you want to find a couple or a partner to swing with. Though, not a rule, but the first month on the swinging website may feel like a total waste of time.
The Swinging Legacy
Swinging is definitely a part of the sexual revolution of the 1960s. Why not so many people talk about it nowadays? Thanks to the 1960s being sexually liberated is rarely a surprise, at least in the big cities and towns of well-developed countries. While some observe swinging, and sexual liberation altogether as perversion, the swinging sixties' legacy had a strong impact on healthcare. Yep, the swinging sixties prompted the discovery of a lot of sexually transmitted diseases and prompted the development of ways to avoid and cure those diseases. Thanks to the swinging sixties we have contraceptive pills and successful treatments of almost all known STDs. Moreover, the adoption of safe sex practices, although reinforced in the 1980s, was first introduced in the 1960s thanks to the swinging.
There are no comments. Your can be the first