Hottest Busty Redheads in Hollywood
According to the statistics, there are only 2% of natural red-haired people on the planet, but at the "dream factory", the lack of fiery beasts has not yet been observed. By nature, Emma Stone is a blonde. It's hard to believe, after all, in life and on the screen, Spiderman's girlfriend often appears with the red hair color, which seems very natural in combination with her milky skin. The star often has to change an image for roles, but she seems to be just happy about it. For the passion for experiments with hair, the actress was even given the nickname "chameleon" in Hollywood.
However, Emma Stone is not the only red-haired beauty of the dream factory. Red is the color of passion and sexuality. Girls know perfectly well that this is used to the fullest. Look at our top hot redheads - you will fall in love with one of them, that's for sure!
Rita Hayworth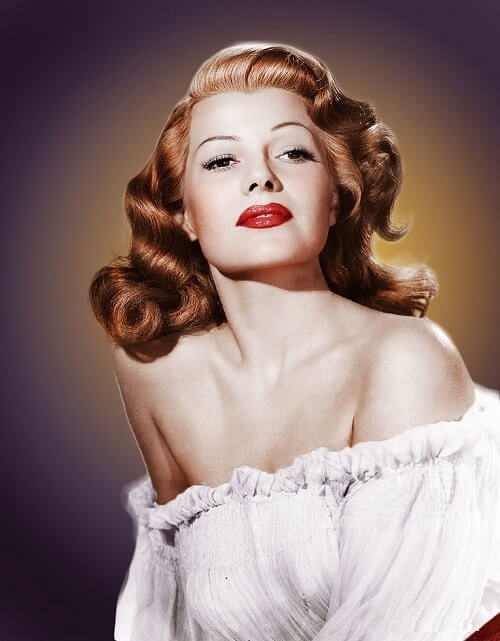 Rita Hayworth is the one who will open our list of sexy redheads - she was the main sex symbol of Hollywood in the 40's. The victims of her charm were such people like a director Orson Welles and the eastern prince Ali Khan. Both those and other marriages gave the actress beautiful daughters.
Rita Hayworth was born under the name of Margaret Carmen Cansino on October 17, 1918, in New York. Her father, a native of Spain, was a dance teacher. Mother, who had Irish and English roots, worked as a chorus artist in Florence Ziegfeld's show.
As soon as his daughter was three years old, her father took her to a dance studio. Daily dance classes replaced her classical education and already in her childhood, it could provide the first success when Rita was invited to the film "Fiesta". However, with her small role, she was unable to attract the attention of critics. Then followed the move to Hollywood - Rita's father decided that here the girl would definitely make a career. Well, this decision was truly fatal!
Nicole Kidman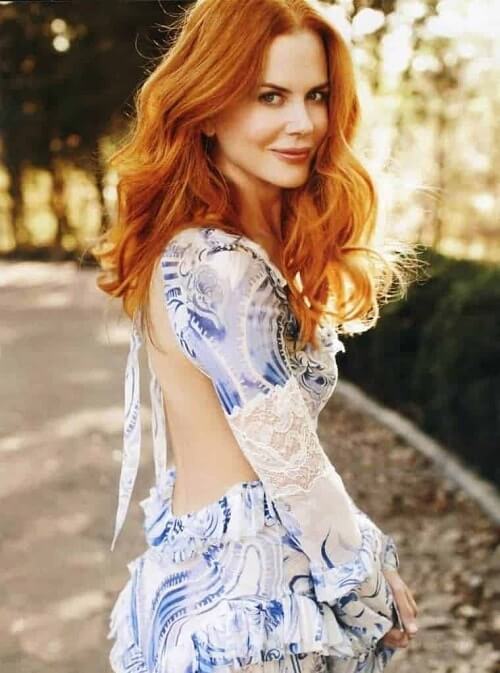 A talented Australian with an impressive list of movie roles of the highest standard and the most famous red-haired beauty of Hollywood. We all remember that Nicole Kidman, a cold blonde with porcelain skin, a style icon and a woman whose aristocracy and manners made her the hostage of a high-society girl image, began her career as Tom Cruise's wife. In her early years, she was quite different - a plain, freckled girly girl with a red knot of curly hair. With age, the actress turned into a noble beauty, worthy of comparison with Grace Kelly, whose role she eventually played.
Nicole Kidman was born June 20, 1967, in Honolulu, the administrative center of the US state of Hawaii. Her parents - Antony David Kidman and Janelle Anne McNeil are of Scottish and Irish blood, but both were born in Australia.
From the age of four, Nicole began to practice ballet. A passion for dancing led her to the Australian Theater for the Youth, and then to the Philip Street Theater, where the future actress also improved in vocal art and studied the history of the theater. You can say that Nicole started her career being 4 years old and you will not be mistaken at all! She is one of the hottest redheads ever.
Julianne Moore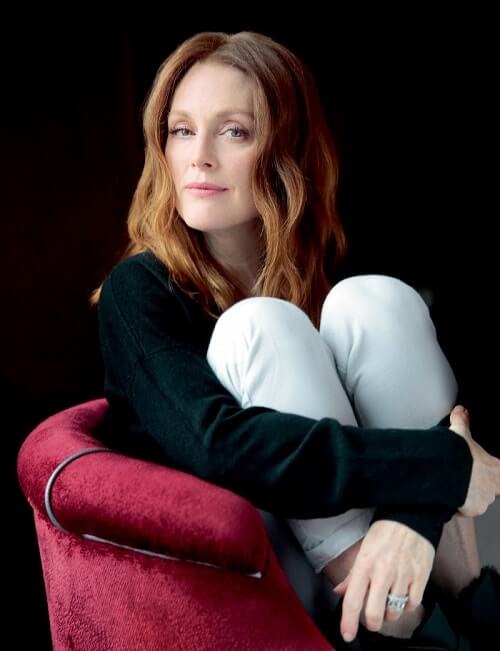 Julianne Moore is one of the few red-haired actresses who do not experiment with the image. In the profession, Moore, by contrast, is brave, choosing diverse roles in both mainstream films and low-budget authorial productions.
If you thought you don't know famous redheads, Julianne Moore is one - she has reddish-brown natural hair. All childhood the family of the future actress wandered from place to place - the father was a military man. After school (or rather, many and many schools), the girl entered the Faculty of Arts at Boston University. In 1983, after the end of her studies, Julianne moved to New York, where she changed her name Julie Ann Smith to Julianne Moore - her name was already taken in the Guild of Actors.
Julianne began to play in Broadway musicals and starred in television series, earning a living as a waitress. Later, the actress had a big rise in the career: Moore acted in the series a lot, but the debut in the big movie took place only in 1990. Moore played in the "Fairy Tales of the Dark Side." She is a queen of gorgeous redheads!
Amy Adams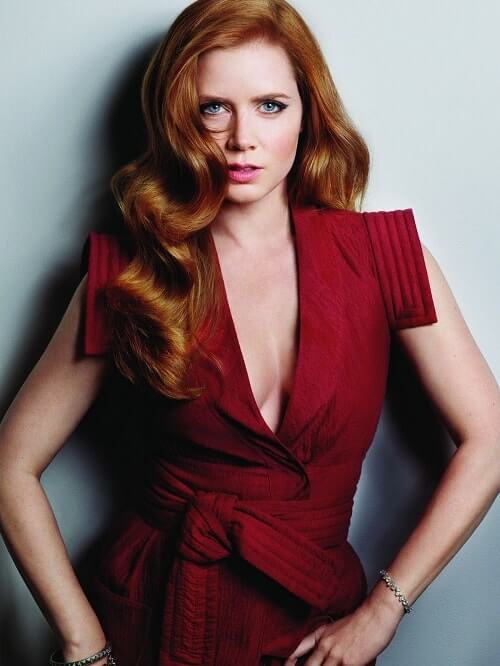 Beginning a career with superficial romantic comedies, the gray-eyed beauty Amy Adams soon revealed herself in Hollywood in a number of compelling roles in serious films. With "Oscar" for the main role in the "American Hustle," Adams finally became the first-echelon star.
Amy Adams was born in the city of Vicenza (Italy). Of the seven children born from American parents Richard Kent and Catherine Adams, she was the fourth child - she has four brothers and two sisters. Among her ancestors, besides the British, there were also Danes, Swiss, and Norwegians. She is one of our favorite hot redheads actresses.
Jessica Chastain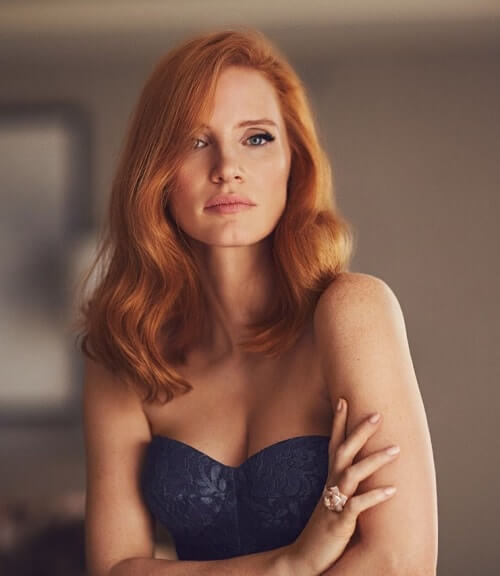 Are you into redheads with blue eyes? Then take a look at this actress - she is so beautiful! One more owner of the red hair, Jessica Chastain succeeded not only in the acting career (on the account of the star there are dozens of successful roles, including in the films "Tree of Life", "Servant", "Shelter", "Lawless") but also in modeling business - the star is the face of the perfume line of the House of Saint Laurent. Jessica adores to amaze her fans during red carpet ceremonies: most often the actress cites retro images in a modern way, like no one else deserving the title of a Hollywood diva and one of the most stunning redheads.
Jessica was born in Sacramento, a small American town. Besides her, there were four other children in the family. The father of the family worked as a fireman, and her mother - a chef, specializing in food for vegans. Jessica's mother was a vegan too (suddenly!), and it largely influenced the future and Jessica, for whom her mother was the greatest authority. According to the memories of the actress, they lived not richly. The same glossy fashion magazine was a luxury for her, but she was able to change her life thanks to diligence and talent.
Christina Hendricks
Maybe you adore redheads with big tits? We have one for you, mate. The owner of magnificent forms, Christina Hendricks, gained fame after her role in the series "Mad Men" (three nominations for "Emmy"). By her example, the actress proved that the status of a sex symbol can be earned without model parameters 90-60-90. Also, she proved that redheads with big boobs rule the world :)
Hendricks was born in Knoxville, Tennessee, but grew up in Twin Falls, Idaho, where the actress studied from the third to the eighth grade. The actress has two citizenships, British and American.
The actress participated in a large number of TV series, as a guest in many famous shows, such as "First Aid" and "Firefly". She appeared in episodes of the series "Angel", "Miss March", "Condemnation", where she played along with the Oscar-winning Sally Field, and "San Francisco Clinic" with Dana Delany. Christina showed that big breasted redheads are too cool to ignore them.
Lindsay Lohan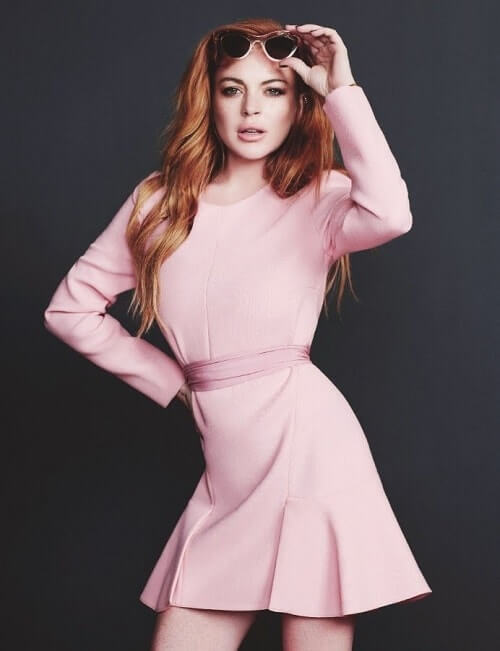 A young generation of busty redheads opens a rebel Lindsay Lohan. We hardly remember the last film with her participation (due to litigation and problems with alcohol and drugs, the actress stopped acting), but the beginning was very promising: the glory fell upon the star at a very early age - Lohan began her modeling career from the age of three, and success in the movie came to her at 11, after the movie "The Parent Trap." The actress often experimented with the image, coloring her hairs blonde, then brunette, then becoming brown-haired, but in the end, she always returned to a natural red tint - she is one of the hottest redheads in Hollywood.
Baby Lindsay was born in New York, on July 2, 1986. Since childhood, it was obvious that the girl would never be an ordinary person working in a stuffy office for eight hours 5 days a week. And not only because she was an extremely artistic and restless child. Lindsay's parents were very wealthy people who could afford to fulfill any desire of their beloved daughter.
The actress's dad, Michael Lohan, was once a major "pasta" entrepreneur with a criminal past, traded on the stock exchange, but then sold a multi-million dollar business inherited from his father, and began financing independent projects in Hollywood. Lindsay's mother, Dina Lohan (now famous socialite) tried herself in the acting field, but, not having achieved any visible success, she decided to realize her dream in little Li-Lo.
Evan Rachel Wood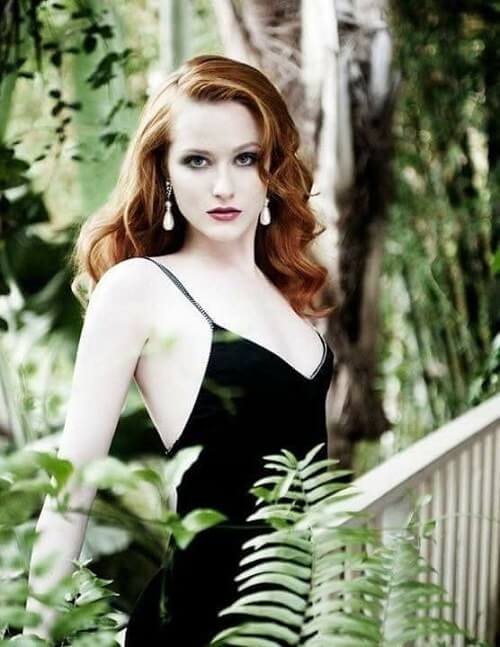 Actress Evan Rachel Wood before the "March Id," "Conspirators" and Woody Allen's "Whatever Works" became famous for melting the heart of the great and terrible Marilyn Manson. Red-haired beauty charmed an outrageous musician so much that he proposed to her. The wedding did not take place, but it's not so important. Four years with a shocking rocker is a big reason to accept her female power and charisma.
Born into an actor's family with Jewish-French roots, Evan Wood literally grew up in the "Forest Theater", led by her father Ira David Wood III. Already in her early childhood, she often participated in father's productions. The first appearance on the stage took place when she was hardly one year old. Although Rachel does not remember this, according to her relatives, her first performance was "Christmas Carol" by Dickens, and she played the spirit of the last Christmas.
Lily Cole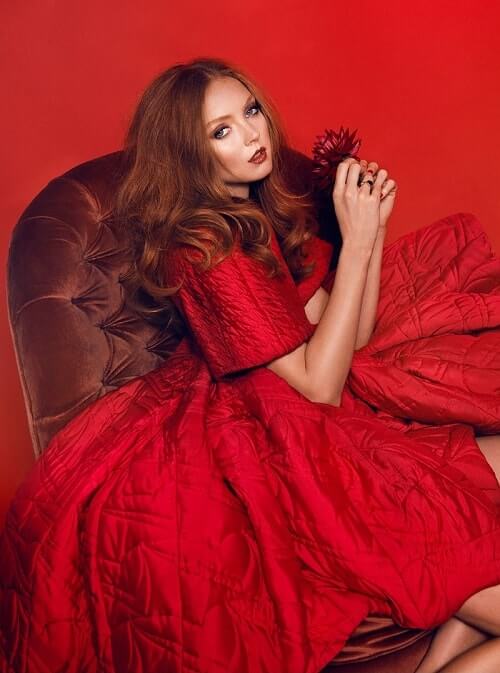 Model and actress Lily Cole is not afraid of experiments with appearance, but she is remembered as a redhead to fans. With her unusual, almost unearthly features, Cole has driven not one designer crazy - the star can look organically both in a tender romantic and fatal manner.
Lily Cole was born on May 19, 1988, in London. She differed from her peers in an extraordinary, extraterrestrial appearance. Lily never dreamed of a model career, but an incident decided her fate. Lily was 14 years old. She was walking along the street to Soho after meeting her friends at one of the local fast-foods. Benjamin Hart, British actor and host of the fashion show on BBC (The Clothes Show) saw Lily. Shocked by her unusual appearance, the actor invited her to appear in an ad - this proposal changed the girl's life once and for all.
We hope you enjoyed our top! See you soon, don't get bored, just love redheads and be happy!
There are no comments. Your can be the first