How to Have a Virtual Date: Ideas and Advice
Last year nobody expected that our lifestyle would be turned upside down, and each of us would try to get used to the new reality. The current situation in the world has changed the relationships as well. It has become impossible to meet with friends and even family members that easy if you live in different cities. Nowadays, all your brunches together are held online, and you can have live talks only with your fellow sufferers if there are some in your apartment, of course. It is logical that the changes have affected the dating sphere as well. In many countries today, there are restrictions on movement and interaction between people: somewhere you can go only to the nearest store or pharmacy, and it is not recommended to communicate with people who do not live in the same apartment. Well, that is definitely not the most convenient conditions for new acquaintances.
Those who are already in a relationship (it does not matter whether they are committed or not), the self-isolation regime encourages active actions and not always simple decisions. Someone is in relationships on a distance (even within the same city), while others, on the contrary, act more boldly and decide to move in together even though they would need more time to decide on that in other circumstances. So, the virtual dating world has become the comfort zone for too many people nowadays.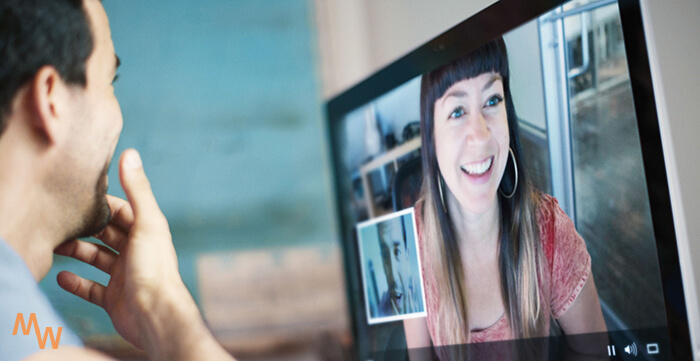 The Actuality of Virtual Dating in 2020
Well, everybody realizes that virtual dating has never been so relevant and desirable as these days. Isolation has become a new trend that affects every sphere of our lives.
Over the past decade, the creators of dating applications have tried to convince people that online dating is normal to completely destroy the stigma surrounding this phenomenon, which dates back to the dot-com era. In 2019, scientists from Stanford University published a study that showed that men are now more likely to use a dating site with single girls to start relationships. An acquaintance at a bar or through friends, family, or work may seem something as strange and old-fashioned as a love sonnet or lack of sex before the wedding. Online dating has become a new norm, and virtual dating ideas have never been that actual.
In the foreseeable future, we will continue to live on lockdown. Due to self-isolation, we have already moved family meetings to Zoom chats, and parties with friends and colleagues take place in FaceTime. Besides, we have begun to spend much more time online and use special browser extensions to watch TV shows on Netflix with beloved ones. We all adapt very easily to something new. Especially when we are driven by something as primitive as the need for communication. Thus, everyone who wants to maintain warm and passionate relationships with dear people should better think about virtual dating. Well, it seems everyone understands virtual date meaning and what they have to do with it. The creators of dating services try to pursue users to switch to virtual dates. Some of them have even introduced new video features to make it easier to arrange a virtual date. Even though we have to stay isolated, we have the same access to the Web. Thus, the absence of meetings in person doesn't mean we cannot communicate with romantic partners or come up with virtual first date ideas. We can look for new ways of communication and stay in touch if we want it. And virtual dating apps become a safety ring in such a situation.
For example, Tinder speaks out in favor of virtual dating as well. An official Tinder account has recently reposted a tweet with something like, "Dating in 2013: Do I want to invite this person home to watch Netflix and relax a bit?" Dating in 2020: Do I want to watch the collapse of capitalism with this person, fight alongside them during the revolution and survive the apocalypse together with them?" Well, Tinder supplemented the tweet with a joke about a virtual date through Zoom, during which the user asks a potential partner to tell more about their survival skills.
Tips to Have a Positive and Successful Virtual Date
We bet most of us have already forgotten how to get ready for dates. How it is even possible to put off a loosen T-shirt that has been presented by your mom, sweatpants, and huge warm socks and do finally with that huge beard? This lockdown has brought its changes into our lifestyles, and if you are interested in a virtual date online, you should better check your look for freshness. It's okay if you feel some anxiety in combination with excitement – the virtual date is an ordinary date in our reality. Anyway, you will feel a bit more comfortable since you stay at home, you can always leave the chat, and you don't need to put off your socks – and it's already a small victory. So, numerous factors that may make you feel stressed, for example, you don't have to worry about the bill in a café, come up with a diverse entertainment program and hope for intimacy at the end of the date, are off the table. You get a chance to get to know your date better, just make sure you will consider the following tips.
1. Ask a girl out on a virtual date
Yep, you will have to leave your comfort zone to arrange a virtual date. And besides all the arrangements, you may worry about the very fact of a video call if you are one of those people who would rather meet in person then call someone. Your potential date may feel the same, but if your sympathy is mutual, you should give it a try and just ask a beauty out on a virtual date. You can use WhatsApp, Skype, Zoom, or just FaceTime. We live in such a time when everyone should live in the moment and try to enjoy it to the fullest. Just use the current isolation to your advantage. Don't be afraid to arrange a virtual date with someone you like.
2. Get ready for an ordinary date
You should diminish the importance and solemnity of your virtual meeting. Yes, you will neither meet in person nor dine at the same table together, but you will still be on a date. So, you should get ready for it as always. Maybe you have certain rituals that you repeat every time when going out on a date, or you have a "first date" shirt. What makes you feel a bit of thrill and excitement? Set yourself up for positive vibes. And since you have some free time, choose the place in your apartment with the best light and make sure you look great at that angle. You don't need to worry about the bouquet of flowers, so you should show you are interested in your talk at least in such a way.
3. Come up with virtual date ideas
The fact that it's a pretty unusual format of dating you are not used to, doesn't mean that you should completely relax and do nothing. Yes, you will not be able to arrange a dinner in a luxury café and then take a stroll in the park, but there are still many different options that will help you feel great together. Thus, the easiest option is to contact your date and decide what she would like to do – just offer her several variants to choose from. Girls like when guys take care of them and provide options. Below you will find some wonderful virtual date night ideas, but even if you ask her whether she would like to drink wine, coffee, or have lunch together, a girl will be pleased.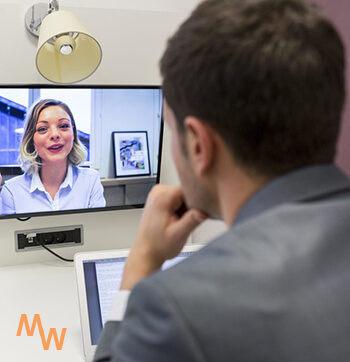 4. Listen to your gut
Times have changed as well as morals, people behave boldly nowadays especially when they are trapped at home and want to do some wild things. Thus, you may have a temptation to offer your virtual date girls to have virtual sex. On the one hand, a girl might be also into such things, but on the other hand, you are risking becoming a new hero of the memes and awkward gifs if someone decides to take screenshots or record a video. Sooner or later, your isolation will end, and you will find yourself in a difficult situation. To avoid any hints in this regard, don't call from your bed if you are communicating not with your permanent partner.
5. Be honest about your emotional state
Yes, men have been taught from childhood that they must be strong no matter what. However, we are all emotional human beings, and we get through difficult situations differently. Considering the current situation, it's okay to feel a bit vulnerable and even slightly depressed. Nonetheless, there is a tremendous number of things to discuss besides isolation and a "global conspiracy." You have asked a girl out on a virtual date because you want to get to know her better and find out whether you have anything in common, that's great! Do it! These several months on lockdown has not changed her personality anyway.
Original Virtual Date Night Ideas
This isolation has provided people with a huge number of different opportunities, starting with self-development, and sorting out their priorities, and to a better understanding of their partners and relationship issues. People cannot just escape from their issues, difficulties, and fears, pretending that everything is perfectly fine. Many single people have decided that it's a great time o find their soulmates and get to know them better since they have enough free time for communication. A long-distance relationship is a challenge, but it also about some intrigue and playful mood. When you do not know for how long this situation will last, it becomes more difficult to spice up your relationships. Even though you don't want to panic and violate your partner's personal space, you should communicate more and have a pleasant pastime together. It's especially true for a new relationship and a honeymoon period in it. Don't postpone your life for later and enjoy your virtual date today.
1. A candlelight dinner
Even though society tries to survive the isolation and stay alive without usual visits to restaurants, you can find a way out and arrange a romantic candlelight dinner, just having ordered your favorite dishes. Most cafes and restaurants provide such services, so they can deliver everything you would like to eat. If you are going to arrange such a date with your permanent partner, you can treat them with their favorite dishes and drinks. Your significant other will be definitely pleased. You can make a surprise or turn it into a game, like Russian Roulette, having chosen something unusual for each other.
2. Compiling positive news
Nowadays people are overwhelmed with the endless flow of negative info and constant disasters, so it can be a challenge to find anything positive that will cheer up your beloved one. Negative vibes only worsen our state and turn this lockdown into a real trap. So, you can gather some sweet, funny, and positive videos, news, or gifs and exchange them with each other, having arranged the date with positive vibes only.
3. Visiting of the online theater
You might have heard that a huge number of different services have provided people with free access to their resources. Thus, you can watch movies, listen to lectures, and visit an online museum and even theatre for free. It looks like a perfect idea for a virtual date night with your significant other when you are isolated and cannot go outside. To create an appropriate atmosphere, you can dim the lights, put on a special outfit, and set yourself up for an amazing and very special evening. And a great bonus of such entertainment is that nobody forbids you to drink wine.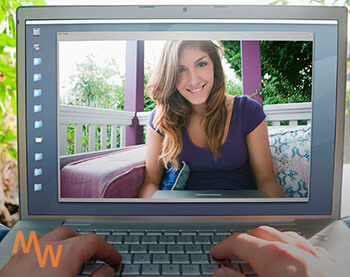 4. A virtual thematic date night
Such a period is perfect for turning on your imagination to the fullest and enjoying a virtual thematic date night. Just choose a theme both of you are fond of. For example, you might be great admirers of Italy and have even planned to go there this spring. Even though your plans are postponed, you can still please yourselves with the Italian atmosphere. Devote your date night to Italy. On the Internet, you can easily find some funny Italian movies (both classic and modern ones), order or cook pasta or a salad, drink Italian wine, call each other with cute Italian nicknames and chat via video.
5. The starry sky
You can arrange a romantic date under the stars even being at a distance. Track interesting astronomical phenomena in your area, and then offer your loved one to go on the balcony, keeping in touch by phone. And now you can enjoy the starry sky together. For example, on March 24, shortly before dawn, Mercury was clearly visible in the eastern part of the sky – it was at the highest point above the horizon. The main thing is to have good weather without clouds. And even if there are no special astronomical events, you can always enjoy the Big Dipper.
6. The famous, "Questions that lead to love"
Once, writer Mandy Len Catron wrote an essay, in which she referred to the research of one famous psychologist, who studied one curious love topic. Namely, he thought about whether people can fall in love faster if they ask each other certain personal questions. Since then, the essays and these 36 questions have become viral. Everyone who used the well-known questionnaire claims that they really fell in love with their partners anew in literally an hour! You can find the questions online. They are pretty personal, and when you ask them, don't forget to maintain eye contact with your soulmate.
7. Online games
If you are into such things, then you know how many different video games exist nowadays, so you can easily find something to your liking. You will get a new topic for communication and will feel like a team even if you play against each other. Thus, modern computer games allow you to create even a romantic atmosphere. For example, in Minecraft, you can build a fairytale castle for your loved one, create a garden, and set up a virtual table there. Then you can invite them to the server and arrange a virtual dinner. GTA 5 Online is also suitable, where you can arrange a meeting in a cafe. Such dates will be original since everything depends on your imagination.
8. Watching movies
Choose an interesting movie and turn it on at the same time and talk on the phone while watching it. If such a dialogue only distracts you from watching, then you can simply correspond from time to time and exchange jokes. If this option is not convenient for you, then you can watch the movie separately, and then discuss it over a glass of wine.
9. Intimate discussion
If you are in committed relationships or know each other pretty well to discuss intimate topics, then you can try sexting or even arrange a video performance, but don't forget about your safety. Many couples lack physical intimacy being on lockdown, so you can prepare yourself for a real meeting and find out what both of you like and would like to try with each other. Sometimes, we don't think about that much and then it turns out that both partners wanted the same but preferred to keep silent.
10. Using sex toys
If you are ready to spice up your relationships in a "very adult way," then you can use modern sex devices that allow you to synchronize your toys and simulate sex with each other. But if it seems too much for you because you have been on lockdown just for 2 months, then you can begin with toys that can be controlled by a partner through the app on a smartphone.
Don't Get Upset Too Much
Sometimes it may seem that it's the worst period in your life, and nothing will get back on track again. However, it's not so. You will be perfectly fine over time, and everything gets back to normal. Use this time to your advantage at least in some aspects of your life. Online dating can become not just interesting and fascinating entertainment but also the beginning of something more serious. You have a wonderful chance to get to know your partner better, find out all their pros and cons and understand how much you suit each other at this stage, and virtual dates will become your great helper in this regard.
There are no comments. Your can be the first