Best Anniversary Gifts for Her
The wedding day passed, leaving many pleasant memories, but there are still more days of joy together ahead. A wedding anniversary is a no less significant date. In the rush of days and constant worries, it often happens that people forget about anniversaries. But it is so important for both partners to remember this day, the day of the union of hearts and the birth of a family. No wonder the people have come up with names for all anniversaries, and there are certain symbols and interpretations of such dates: green, chintz, tin, glass wedding. Well, more solid ones are porcelain, silver, ruby, sapphire, gold, and red.
Each of them has its own beautiful legend, which can be followed if you do not know how to celebrate an anniversary. In this article, we have collected the best yearly anniversary gifts according to the traditions but with a modern twist.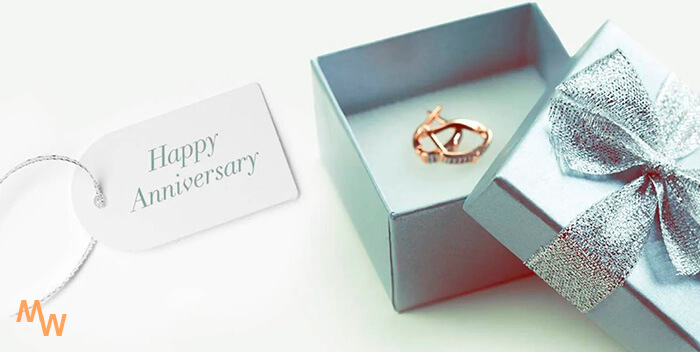 Why It Is Important to Celebrate Your Relationship Anniversary
First of all, an anniversary is a holiday. And you can come up with new details of your perfect celebration and present your beloved anniversary gifts.
Furthermore, the anniversary is a possibility to live through the best day of your life again. You shouldn't remember that the wedding banquet failed, or your hairstyle did not look the best for your whole life. Instead, you can remember all your wedding anniversaries by years and enjoy these incomparable moments in your memory.
Since the anniversary is not such a large-scale event as a wedding, you can prepare well and pay attention to even the little things. You can organize everything thoroughly and spend your anniversary perfectly. Do you regret that you didn't have time to buy beautiful invitation cards for the wedding? Do it now. Find the best postcards and hand them to people you are going to invite to your holiday.
And the anniversary is a great opportunity to find or discover something completely new. Are you used to quiet holidays? Celebrate your wedding anniversary with a festive dinner then and do it the way you want. Or maybe it's time to jump with a parachute or go on a trip to another country. Do not be afraid to borrow other people's ideas. Did your friends have a romantic date on the roof? Are you excited about this and want to do the same? Then do not doubt anything, fulfill your dreams!
But still, there is one person whose opinion you have to consider, this is about your spouse. Whatever you decide to organize, you cannot do this without the consent of your soulmate. After all, this is your common holiday, and you must reckon with this. If they don't like anything, you will have to give it up or seek a compromise.
But to hope that a partner independently organizes a gorgeous secret romantic evening for you two is also selfish. Indeed, some people really do not keep such dates in mind all the time. Therefore, your task is to remind your spouse in advance that you have an anniversary and clearly indicate your plans for this day, and then discuss them together.
5 Universal Ideas for Your Anniversary
For many couples, anniversary day is not just another date on the calendar. Spouses attach special value to family relationships and try to celebrate the happiest day in their life, marriage day in every possible way. There are plenty of options for holding this wonderful holiday. This can be a repetition of the entire wedding procedure with an on-site ceremony, a romantic weekend away from everyday problems and troubles, a family photoshoot, a joint parachute jump, an ordinary dinner with friends or a traditional picnic, and, of course, good anniversary gifts to each other. What are original ways to celebrate this occasion?
A romantic trip you've always dreamed of
If you have common dreams, a wedding anniversary is a great occasion to make them a reality. The format of the holiday depends on what exactly you dream about. Perhaps you have long wanted to buy some kind of equipment, a car, visit interesting places or just sign up for a gym or ride a roller coaster. From this day on, let your dream come true! One of the best anniversary gifts for her would be arranging a trip to a place you have been long talking about! Or let your beloved one have a perfect day in another city, hop on a random train and visit a new place where you can spend the whole day shopping, eating and finish it at a luxurious hotel suite.
Dinner in a fancy restaurant
A good idea for people who have kept tender feelings for each other is a romantic evening. Not only lonely women seeking men love such surprises, after many years of common life, your beloved still deserves romantic dinners. To celebrate the anniversary in this way, you will not need a limousine or guests. An intimate evening with candles and music in a comfortable setting is the most romantic anniversary.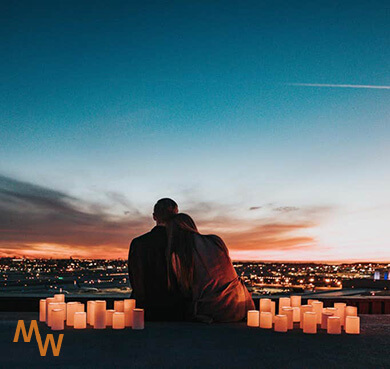 You can even repeat your first date. Remember how your relationship began. It can be a dinner in a cafe, restaurant, walk in the park. You can organize everything in a slightly different format, but in this case, one of the spouses will have to take the initiative in their own hands. They must come up with puzzles, and another one should solve them, for example, to find out the place of the meeting.
Party with best friends
If you do not want to spend this day in traditional ways, you can arrange a holiday in an unusual form, invite all your friends, and the unmarried guys can meet single girls there. Organize a repeat ceremony just like on a wedding day - all the same guests, and outfits. Civil registry officials, as a rule, do not reject a request to help arrange a wedding again. Congratulations, white doves and gifts will return the newlyweds to the day of their wedding and make them relive that exciting happy day.
Perhaps, during this time, your attitude to the wedding ceremony has changed somewhat. In this case, everything can be organized differently. Would you stick to a different dress, format, and venue now? Everything is possible on the anniversary! You can repeat the ceremony in a completely new format and even in a comic form. If one of the spouses secretly arranges such a celebration, this will make one of the best anniversary gifts.
Hot air balloon ride
Building a family is always about taking certain risks. No one knows how events will develop between two loving people. So why do not you celebrate the anniversary event extremely? It can be paragliding, parachuting, kayaking and much more. For example, a hot air balloon ride! Such anniversary gifts for her will make your spouse fall in love with you again and remember this day for the rest of your life. There couldn't be a more suitable occasion to have such a ride and arrange such a surprise than the date of your initial wedding. By the way, the best place to do this is Cappadocia in Turkey. If your anniversary coincides with the balloon festive season in the region, definitely set out to this place!
Dancing class
What can be a more tender and cuter idea than this? Such anniversary gifts for girlfriend will turn you back to times when you were just dating and feared to touch each other. Now you have been much closer in all aspects, but the feeling of learning a new dance, performing it to the rhythmic music and feeling how sexy your spouse is (provided you choose a sexy dance such as tango or bachata) will refresh your memories.
Anniversary Gifts by Year: Ideas for Her
All years of the wedding are endowed with a certain meaning, so each anniversary marks a new round in life together. This holiday is evidence that the love of two close and dear people strengthens over time.
Each anniversary is called in its own way, and each name symbolizes the degree of reliability of relations between spouses. Considering all the names of anniversaries helps in deciding when and how the wedding anniversary should be celebrated, and choose anniversary gifts by year.
One Year Anniversary Gifts
1 year of life: chintz wedding
The marriage bond is not yet quite strong, and the slightest embarrassing act or word can break the not yet strong relationship, just like a chintz easily tears apart. Traditionally, the first wedding anniversary is celebrated in a circle of relatives and friends. Guests of the newlyweds are most often invited to their home so that they can appreciate the home coziness and comfort of the young family, try the food prepared by the young wife. Often, on the first anniversary, guests come with a bottle of champagne bought on their wedding day.
You can repeat the wedding but in a narrower circle or elsewhere. After a year, many things change, and the first wedding anniversary may be exactly what young people wanted to see at their wedding, so no officialdom or unfamiliar faces among the guests. Why is the date called chintz? Another version is that because the newlyweds are already getting used to living with each other, the threads that connect them have become stronger. The first year of marriage is considered the most difficult. Therefore, its celebration is a definite victory over the vicissitudes of family life, which is new to man and woman.
First anniversary gifts
Handmade chintz cats
From time to time, couples need to be reminded how in love and carefree they were so that their feelings flared up with renewed vigor. A fine reminder of the days of their romantic dates will be a couple of chintz cats. Charming handmade toys will become the embodiment of happy spouses. After all, DIY anniversary gifts are always the best!
World map
A detailed map of the world on which countries are painted in different colors or the names of cities and countries are embroidered on a large piece of fabric. With the help of this card, you can study geography with your child, mark with flags the places and countries where you were lucky to visit or plan future trips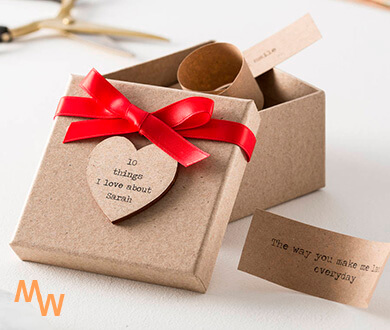 Personalized bathrobes
It's important for some couples that their belongings are paired so that no one is left without anything. Some just love paired personal things, it is something like emphasizing family and a certain team spirit for them.
Pillow with photos
When the house turns into a family nest, we want to quickly fill it with memorable little things. It's a great idea to order a pillow with a photo or choose a print that is of particular importance to you. A more romantic and, at the same time, practical gift can be rarely found.
Chintz handkerchiefs
On the first wedding anniversary, the couple should give each other handkerchiefs from chintz to tie knots on them, again pronouncing vows. It is believed that this will help maintain a love for many years. But if you do not believe in signs, cute handkerchiefs with an embroidered monogram will become a touching gift anyways.
3rd-anniversary gifts
This is a leather wedding anniversary. The name of this celebration suggests that marriage is strengthened, and relationships are becoming more flexible, like skin. And the skin is not so easy to tear, unlike paper.
On this date, various things from leather should be presented. Some of the best ideas unlike, one-year anniversary gifts, can be a purse, and a handbag, and a watch with a leather strap. A case for a phone, tablet, cover for a passport or a driver's license, any of these things will come in handy in everyday life and will remind you that your family is three years old.
3rd-anniversary gifts
Engraved paired bracelets
It is very important to feel that your loved one is always there, even if you are separated by a huge distance. And loving people just need cute symbolic little things that would remind them of each other. Leather bracelets for two engraved with a memorable date is a wonderful gift with meaning.
Leather clutch
Can a girl resist a beautiful and high-quality leather accessory? Of course not! After all, the more handbags and clutches in her wardrobe are, the better. Also, such a gift is a way to remind her of you whenever she wears it.
An album with your photos
A gift that will delight everyone! Gather all the bright moments of life together. It can be both black-and-white photos of your parents, and yesterday's photos from your phone. The cover of your new family book must be made of leather.
Unusual leather necklace
Leather necklaces and bracelets imply ethno-style, but nowadays they can look no less stylish. The original lily of the valley necklace with pearls will complement the romantic look, it can be worn simply with a white T-shirt.
Star map
Do you remember what the night sky looked like on your wedding day? Or festive vanity and tears of happiness? You can use a time machine by ordering a starry sky map of your special day.
A night at a luxury hotel
To book a hotel in honor of the third wedding anniversary and re-spend the first wedding night, it sounds tempting, right? Especially if it is a hotel with a jacuzzi in the room, with a pool and, of course, with a delicious breakfast. It remains only to choose a hotel in your or neighboring city.
5-year anniversary gifts
This anniversary is wooden, and it means that the union of two loving people strengthens and becomes as strong as a tree. That is, wood symbolizes longevity, reliability, and strength. It is customary to celebrate the anniversary with the closest people - relatives and friends. Guests invited to such a holiday bring a variety of wooden gifts for anniversary. This is a symbol of a strong family, a reliable and strong life together.
5-year anniversary gifts
Voice picture
The most important words can be heard endlessly. And goosebumps will run away from wedding vows even many years after a memorable day. Why not perpetuate the couple's consent to become husband and wife? The voice picture will be a true embodiment of love that you can hang on the wall and listen at any time. It shows the recording of your voices painted or stamped on a wooden board, this gift looks stylish and will last for a whole life.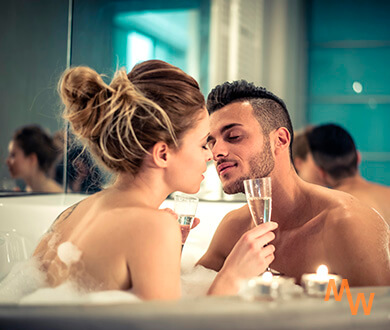 Picture made of threads
Want to give your loved one a unique gift? What about a portrait of threads? Handcrafted on a wooden base with nails by a talented professional, this work will be the most unique gift in human life.
Breakfast table
It's great when a family has its traditions. For example, take turns to bring each other breakfast in bed in the morning on the weekend. There is so much concern about this. You can start this family ritual on the anniversary day, delighting your soulmate.
Wood texture aroma humidifier
What creates home comfort? Favorite plaid, hot tea and pleasant smells that help forget about all the injustices of the outside world and tune in the right way. No wonder aromatherapy is so popular. Give your wife moments of calm and relaxation by choosing an aromatic air moisturizer for her.
Wooden box with the crowbar
A brutal gift is suitable not only for men. Filling of the box can be very different: from a set for making cocktails to camping equipment. And the very opening of the gift turns into a real quest: a box boarded up with nails can be opened only with a crowbar.
Tree in a cube
According to tradition, on the day of the wooden anniversary, the couple plants a tree that will grow bigger and stronger, like their family. And if circumstances do not allow you to immediately plant a seedling in the soil, then you can start growing a tree right at home, in a wooden cube
So, what are the opportunities for a wedding anniversary? First of all, from year to year choose exactly those holiday details that bring the most joy. Decide what it will be: your favorite food in the restaurant and unforgettable fireworks or a company of close people? And if, for example, you liked the launch of sky lanterns at a wedding and remember this your whole life, then this can make a wonderful annual tradition. Thus, from year to year, you can improve your ideal celebration.
Finally, an anniversary is a way to get to know something completely new. Sometimes, it makes sense to try a type of holiday that is completely unfamiliar to you but is of interest: if you are used to quiet romantic dinners, try to ascend the sky on a balloon or paraglide that day. Have you always celebrated at home? Plan a trip to another city, country or at least just an unfamiliar place. In other words, try something you had read or heard about, what you saw from others but have been scared to try. Just let this day remain in your memory with something unusual: a long horse ride, travel on an old steam train, going to an aqua park or ... a walk along the roofs!
And feel free to borrow good ideas. If friends, after registration, released a lot of balloons into the sky, and on the anniversary, they played badminton in nature with barbecue, and you liked it, repeat after them adding your ideas!
There are no comments. Your can be the first